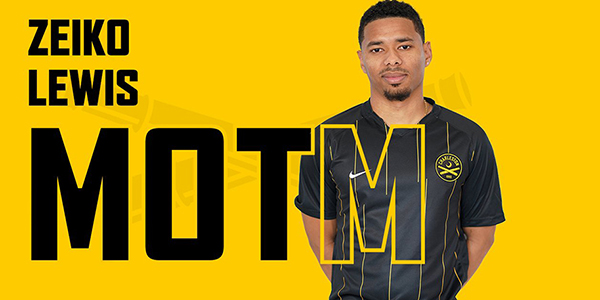 August 16, 2020
Bermuda's Zeiko Lewis made an impressive showing for his Charleston Battery team, scoring twice as they played to a 3-2 win against Atlanta United and being named Man of the Match.
The club's match report said, "It yet another second-half comeback, the Charleston Battery knocked off Atlanta United 2 on Saturday night 3-2 in their first game back at Patriots Point in 23 days. While some early defensive mistakes by the Charleston side put Atlanta up by 2, the Battery kept in the fight for a full 90 minutes with goals in the 57th, 59th and 91st minutes. The 3 points from the win place Charleston firmly in second place for Group H and in playoff contention.
"Zeiko Lewis continued his team-leading [4] scoring campaign with registering the brace for the evening. His equalizing goal in the 59th minute turned the tables as the Battery held a steady attack and wore down the young Atlanta team through the second half.
"The Battery had their work cut out for them early in the first half as Atlanta's constant forward threat, Macky Diop, continued to menace the Battery backline. A pass across the top of the box to Diop through a fray of Battery defenders was punched low to the right side of the goal past Battery netminder Phil Breno.  The boys headed to the locker room at the half down 1-0.
"Much like the first half, the start of the second did not go the Battery's way as Atlanta converted a corner kick in the 51st minute to go ahead by 2. Breno had a brilliant block but couldn't get it out of a packed box as Atlanta's Efrain Morales knocked it in on the rebound. The tides began to shift minutes later as both Cichero scored and Lewis equalized, within two minutes of each other.
"Mauro made the most of a pass up the middle by Romario Piggot, switching feet past a solo Atlanta defender, and curved one past Atlanta keeper Ben Lungaard. Not to be outdone, two minutes later Zeiko fielded a midfield pass from Angelo Kelly to make a quick settle and spin to then tuck it past Lundgaard to the back of the net. A header off the corner kick by sub Arthur Bosua at 89′ nearly sealed the deal as Lundgaard came out from the net, but hit the outside of the net.
"Then, it was all Cichero and Lewis in stoppage time for the go ahead goal with a little help from the defenders. After a throw in from defender Kyle Nelson, Cichero sailed it from midfield over two Atlanta defenders to a perfectly placed AJ Paterson who settled it with the chest and then knocked it over to Lewis on the right side to tap it in just past Lundgaard with."

Read More About
Category: All, News, Sports