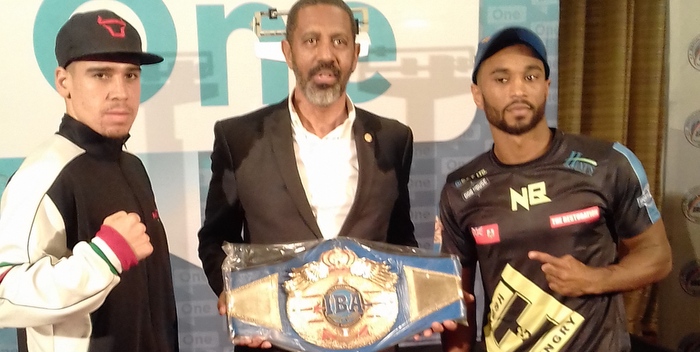 November 24, 2018
[Written by Patrick Bean]
A Las Vegas like stage has been set for Bermudian boxer Nikki Bascome to redeem himself from his last fight loss, with the Fairmont Southampton's Poinciana Room set up as one might witness at the famous MGM Grand or Caesar's Palace among the Nevada Desert oasis that is 'Sin City'.
Redemption Fight Night featuring Bascome and his Mexican opponent David Martinez going at it for the vacant International Boxing Association [IBA] world welterweight title got under-way last night with the pre-fight weigh-in as well as a Redemption Fight Family Night, which featured some of the Island's child pugilists in three round, two minute per round exhibition bouts which were preceded by an adult exhibition match.
The calm, soft spoken Bascome tipped the scales at 143 lbs — four pounds below the welterweight limit — while his opponent, Martinez came in at the maximum weight allowed of 147 lbs, with both fighters expected to add a few pounds overnight to fight on the night at closer with to 150 lbs, with added weight often translated as more punching power, lighter weight tends to diminish power while enhancing hand-speed and movement.
Asked if he was concerned about giving away pounds to Martinez much like he did in his last fight against Portuguese opponent Fábio Costa, who was able to draw the lighter and softer punching Bermudian fighter into a close range brawling contest of power, which ended with Bascome in an undesired prone position straddling the bottom rope, Bascome spoke his need to simply fight smarter and not be lured into opposing tactics that do not play to his strength.
Bascome has a noted strong left-hook and has sought to improve his defence during his most recent camps with noted trainer Jeff Mayweather the uncle of the world's referred best fighter Floyd Mayweather, whose family specialty is defensive type boxing strategies that often involve offering rivals angles that prevent clean punches landing and a reliance on quick counter-attacking movement and punching to accumulate points while frustrating antagonists.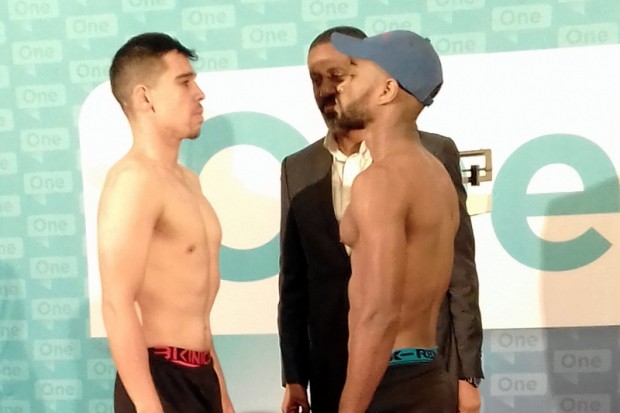 "I feel good, I'm relaxed and concentrated on what I have to do tomorrow night," said Bascome. "I'm not so worried about the weight [difference], it is what it is, I know that I'm naturally the smaller man.
"I'm not getting caught up in the redemption factor and all the talk about the future. I'm 100 percent ready and will go in tomorrow and give my best, I'm not dwelling on the loss, I know who I am and the results are going to be what the results are."
Meanwhile, his Mexican opponent was likewise unfazed when asked about his having gone undefeated inside his home nation but having struggled beyond the Central American country known to produce many of the leading lighter-weight boxers on the planet. Martinez has 12 wins from 15 bouts but has struggled overseas, losing his last venture across the border to Canada's Michael Brandon by unanimous decision.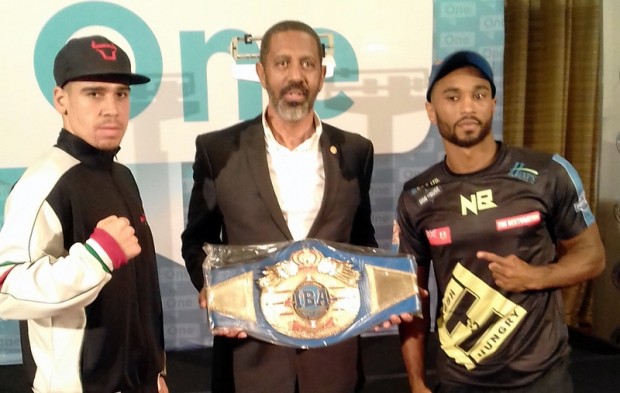 Martinez answered the question in Spanish, however a member of his fight staff translated saying: "He has lost two fights to fighters that were really super-welterweights but he's a natural welterweight and he's very confident of being [crowned] champion tomorrow night."
Bascome likely needs a definitive victory to restore and re-establish himself as a viable up and coming contender in the division or consider dropping down a category to fight where he would likely be the bigger man. Nevertheless, much hinges either way on the result he is able to achieve tonight.
Meanwhile the exhibition bouts last night saw Leo [The Lion] Richardson take on Denzel Simons, the latter making his ring début, with both men giving as much as they took in an entertaining three round contest to kick off Redemption Fight Family Night.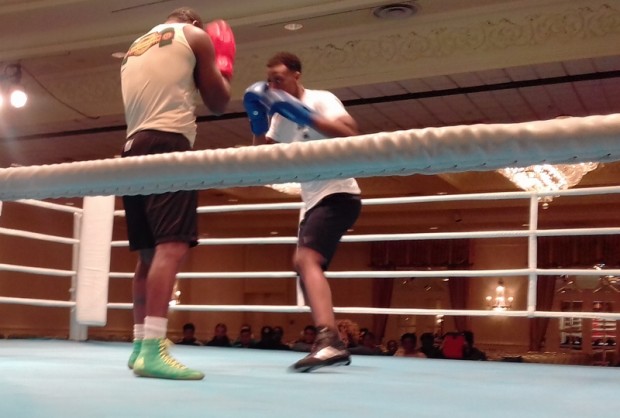 The pair were followed by a children's battle between Josef Ferreira — already with the moniker 'King of Sting — and ElMico Hayward DeShield who.apparently has apparently earned title to the term'legend' before the age of 12, self-titling himself as 'Mico the Legend'.
There were a bevy of further junior battles on the night to whet the appetite for what is a lengthy 11-fight card that will also include 23-year-old Andre Lambe facing Alex Navarro, of Grants/Rival Gym in Ontario and other bouts, including Martial Arts expert Krista Dyer donning the boxing gloves for the first time against Sara Buczek.
Bernews will provide live updates on this evening's boxing on our website and @BernewsSports Twitter.

Read More About
Category: All, News, Sports